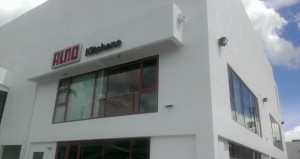 ALNO AG is Germany's leading commercial and residential kitchen manufacturer. After having much success opening their first US showroom in New York earlier this year they decided to open a beautiful new showroom in Miami, Florida.
Like many commercial buildings in South Florida their offices have floor to ceiling windows with many of their offices facing west. This becomes an issue during the afternoon hours when the setting sun can raise temperatures and make employees uncomfortable. Not only does this lower production, but it can also drive energy costs through the roof.
The simple solution to both of these problems was our Roller Shade collection. Roller shades not only offer the best of both worlds in that they can stop powerful UV rays from heating up commercial space and still leave you with visibility, but they also look great and can match any interior.
ALNO decided on a 5% white(Opacity Levels) fabric that looks great and matches their offices. We built these shades in house and installed them within a week of the order being placed. Needless to say the difference is night and day. No longer will the setting sun slow down productivity or cost them enormous amounts of electricity.
For more information on ALNO and their products please visit their new showroom or website at:
ALNO USA Corporation
3650 N. Miami Ave, 2nd Floor
Miami, FL 33127
786-344-3650